Exhibition and Performance Documentation
Presentation and Scope
Exhibitions are a core product of museum activity and one of the main and most traditional strategies to give access to collections and the knowledge they can generate. The way museums present and interpret collections, as well as loan-based displays, is essential not only to the study of artifacts and institutional histories but also to the investigation and development of the specific knowledge fields related to their collection typologies. Moreover, the distinction between displays and the performative within collecting institutions is increasingly hard to define, forcing an acknowledgment of exhibitions as event-based rather than static. However, the archival permanence and future access of these events through adequate and representative records are continually threatened by the lack of recognition of their importance and the absence of appropriate specific documentation guidelines, policies and procedures. To these challenges, institutions now face the even more daunting challenge of the dissemination and archiving of new technologies and media, as well as the evolution of contemporary curatorial practices that blur the usual conceptual and physical boundaries between the exhibition project and the museum object itself. Other crucial questions and challenges are asked by virtual exhibition initiatives.
Thus, the main objective of the Exhibition and Performance Documentation Working Group is to investigate the central role of exhibition and performance documentation for museums and related organisations, and to contend with relevant issues concerning their long-term preservation, access and research. Contemporary exhibition and performance documentation challenges share not only conceptual and practical features but also possible strategies and solutions for their permanence and future use and interpretation, therefore justifying a unified investigative approach.
The WG was officially approved by the CIDOC board during the 2015 CIDOC Annual Conference held in New Delhi (September 5-10, 2015) when a special meeting dedicated to the discussion of the subject and the new initiative brought together museum documentation professionals from several different countries and institutions at the New Delhi National Gallery of Modern Art (September 5th).
General Aims
The  CIDOC Exhibition and Performance Documentation Working Group primary lines of interest and action are:
1. Defining the displayed object: exhibition concept, typology, characterization and scope of investigation;
2. Benchmark and networking: identifying related existing initiatives, establishing partnerships and collaboration for information exchange;
3. Mapping the current situation of exhibition/performance documentation and preservation practices in museums (professional and institutional surveys);
4. Understanding exhibition and performance research: identification of users profiles and general/specific needs, concerns and expectations;
5. Defining the scope of problems and testing solutions for exhibition and performance documentation, preservation, access and research;
6. Proposing more adequate documentation procedures and guidelines for museums and museum professionals (institutional policies, records production, archival appraisal  and description needs, collection development, metadata standards, digitization processes, collection management system functionalities, strategies for research portals and public interfaces and digital preservation etc.).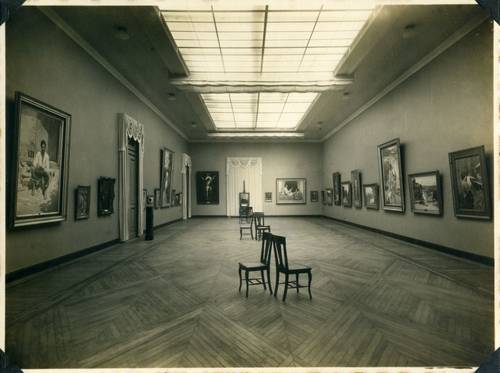 (Photo: Perspective of the Almeida Jr. Gallery at Pinacoteca do Estado de São Paulo, 1947. Unknown photographer. Cedoc Collection – Pinacoteca do Estado de São Paulo)
Contact
Alexandre Matos, Chair
alexandrematos[at]mac.com
Porto, Portugal
---
Former chair
Gabriel Moore Forell Bevilacqua, Chair
E-mail: gabrielmoore@gmail.com
Tel: +55 (21) 2629-9758
Address: Departamento de Ciência da Informação, Universidade Federal Fluminense, Rua Lara Vilela, 126 – Niterói, Rio de Janeiro, Brazil – 24210-590