The Priceless Power of GLAMs – Holly Witchey (March 2017)
I wanna tell you it's some cold and lonely work if the focus of your studies is the never-told story of a well-to-do family in the Gilded Age (not a lot of sympathy out there for the topic, but the story of three generations of the Wade impact on the cultural infrastructure in Cleveland is one that I'm committed to telling). I soon learned I wasn't alone. Oh my stars and garters, in January I discovered a whole new "family" of long lost GLAM relatives. The value of GLAMs is found in its ability to introduce you to the creative people who are doing the kinds of projects you aspire to do, people who can make knowledge dissemination informative and visually compelling, and people who welcome others and share information joyfully.
For the better part of the past six years I've spent my time in Cleveland libraries and archives. Most notably, the archives/library of the Cleveland History Center of the Western Reserve Historical Society, a truly treasure-filled collection of books, manuscripts, all on a site that also has a carousel, the Crawford Auto Aviation Museum, two historic homes, and an outstanding collection of costumes. For much of that time my bag-o-bones has been seated at a manuscript table in the reading room of the library. My mind, though, has traveled around the world and through history with Jeptha H. Wade, his only son, Randall Wade, and Randall's only son Jeptha H. Wade II—one of the four founders of the Cleveland Museum of Art.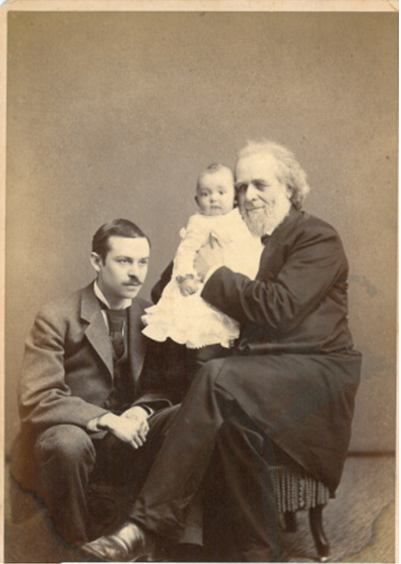 Figure 1: Grandson, Great-Grandson, and Grandfather: Jeptha Homer Wade II (1857-1926), Jeptha Homer Wade Jr. (1879-1936), and Jeptha H. Wade (1811-1890). Photo Courtesy of Wade Family and can also be found in PG 597, Cleveland History Center Library/Archives of the Western Reserve Historical Society
When I'm not embedded in history, I teach traditional museum studies in the classroom at Case Western Reserve University and online for Johns Hopkins Advanced Academic Program in museum studies. For Hopkins I teach a course called "Issues of Convergence in Archives, Libraries, and Museums" and regularly ask students to read the 2009 OCLC report "Think Global, Act Local – Library, Archive and Museum Collaboration." This report by Günter Waibel and Ricky Erway is still one of my favorite tools for encouraging students to think about the power of collaboration among our communities.
I wish someone had shown me the Collaboration Continuum much earlier in my career, with its handy-dandy arrow-shaped chart showing the process from contact moving on past collaboration to convergence—where as Waibel/Erway predict The endpoint of the collaboration continuum is convergence, a state in which Collaboration has become so extensive, engrained, and assumed that it is no longer Recognized as a collaborative undertaking. Wouldn't that be lovely!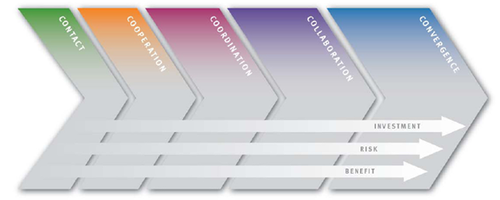 Figure 2: The Collaboration Continuum (Originally published in Beyond the Silos of the LAMs: Collaboration Among Libraries, Archives and Museums.[1])
And sometimes, just sometimes, the GLAM world surprises you, as it did with me this past January. I had a small research grant to visit the University of Rochester archives to read letters from Jeptha Wade, one of the founders of Western Union Telegraph, to his business partner, Hiram Sibley.  The day before I was due to leave, I discovered the Family History of Emily Sibley Watson timeline, constructed by Lu Harper, Archivist at the Memorial Art Gallery in Rochester (MAG). I sent her off a note to ask if we could meet sometime over the next two days.  I had an email response from Lu almost immediately:
Dear Holly—
How exciting to make this connection.  My colleague Margie Searl is the true expert on the Hiram Sibley materials.  We're in the process of tracking down Sibley & Watson family materials in archival repositories around Rochester.  There is a large collection of letters in the Hiram Sibley papers in the collection of Rare Books at the University of Rochester's Rush Rhees Library.  Lori Birrell is your contact for these papers.  I believe there is also a 3-volume scrapbook of material related to Hiram Sibley in the collection of Rochester Public Library, in the Local History collection…I know Margie has looked at it; I haven't seen it yet.  In addition, we've found some materials in the collection of George Eastman Museum, among materials donated by the widow of filmmaker James Sibley Watson, Jr., Emily Sibley Watson's son.
And then a few minutes after that I got a follow up email from Margie Searl:
I'm free all day Friday. I have transcribed all of the letters between Hiram and Elizabeth Sibley from their European travels, as well as the lists of artworks that Hiram purchased in Europe. Love to meet and talk.
It was a good thing that Margie had Friday free; we spent most of the day together.  We talked about our projects, compared collections, walked the museum—the MAG was started by Emily Sibley Watson [2], Hiram's daughter, the CMA by Jeptha H. Wade II, Jeptha's grandson. We left the museum and walked to see the site of Hiram's house, which is still standing, and I later sent a photograph of an engraved image of Jeptha's house. We were like long lost relatives—I can tell you that collaboration continuum arrow collapsed faster than you can say, well, collaboration continuum.
Later in the afternoon, Margie took me to meet Joe Easterly, the Digital Humanities Librarian at the University of Rochester's Digital Humanities Digital Scholarship Lab, who kindly talked to me about some of their projects. I was particularly envious of The May Bragdon Diaries, which is gloriously compelling and the easy-to-navigate site described as "Ten diaries spanning 1893-1914 illustrate the life of a single working woman set free by the bicycle and enlivened by friendships, the Kodak, the theatre, and a connection with the natural world."
Forging connections with people through common projects, an appreciation for information, and sharing knowledge—this is heady stuff. And finding convergence when I was only expecting contact, well that's the priceless power of GLAMs.
Bio:  Holly Witchey has a Ph.D. in European Painting and Sculpture and twenty-five years of experience as a museum professional. She teaches museum studies online for Johns Hopkins University, and traditional museum studies at Case Western Reserve University where she is adjunct faculty in the Department of Art History and Art. In October 2016 she joined the EdFutures team as Senior Fellow for Museums.