2017 Museums and the Web conference report – Reem Weda (May 2017)
Museums and the Web 2017, Cleveland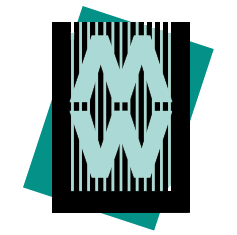 Last April I had the opportunity to visit the famous Museums and the Web (MW) Conference that was held in Cleveland, Ohio. For readers who don't know this conference, it's an annual conference traditionally convened in North America or Asia. The meetings and proceedings feature advanced research and exemplary applications of digital practice for cultural, natural and scientific heritage.
Being an information specialist in a cultural institute that is making the transition to a more digitally oriented organization, this was a great opportunity to catch up on the latest developments and experiences in other organizations. It's impossible to address in this blog post all the topics that where discussed, but I will try and point out some main topics and some interesting talks that I attended. For the full program, see the MW17 website. There where pre-conference workshops organized but because they require additional payment I wasn't able to attend those. They should be very useful though, if you want to interact with experts and dig deeper into the matter you're dealing with.
This year there was a special emphasis on accessibility and inclusive design. The  Guest co-chair, Sina Bahram, is a renowned expert in the field. Being blind himself he has first-hand experience of the issues. The Opening Plenary by Tim Phillips from Beyond Conflict, gave an interesting point of view and made us think of the role a museum can play to build more inclusive communities. This could have a profound effect on conflict prevention and resolution, because, per Phillips, 'exclusion is a main drive for conflict, and peace can only be achieved by bringing everyone to the table'. To put things in perspective: museums are considered the endpoint in this development, rather than the beginning.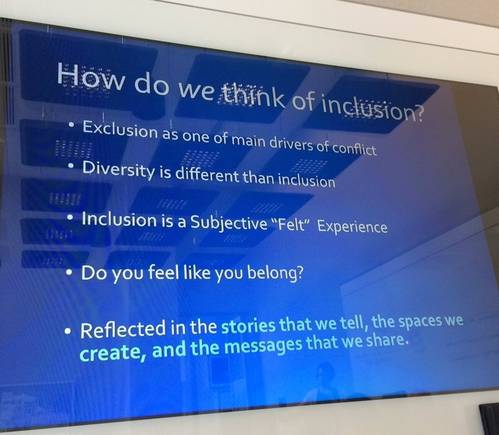 Tim Phillips' presentation on Building More Inclusive Communities: Lessons From 25 Years on the Front Lines of Peace
The topics presented that I was interested in were – but not limited to:
– Linked Open Data:  Carnegie Museum of Art's Art-Tracks: Using LOD for object provenance
– How to use the LOD publication of Getty Vocabularies
– Data sharing projects: like the American Art Collaborative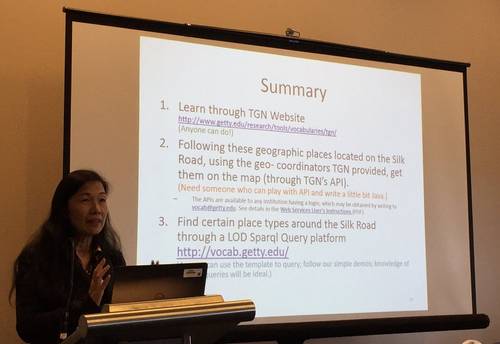 Marcia Zeng's presentation on Linked Open Data (LOD) Vocabularies: Querying, Dumping, Re-Using, and Serving (photo by Travis Feder)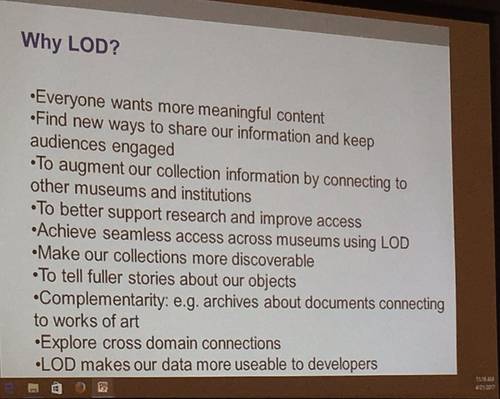 American Art Collaborative slide (photo by Johanna berg @johannaberg)
It's quite clear that sharing collections, data, and more (!) is becoming a mainstream museum practice (at least as represented at MW), and so is crowdsourcing, metrics, and co-development between museums and tech companies. The experiences of the Australian Centre for the Moving Image and the Museum of New Zealand, Te Papa Tongarewa where informative and inspiring to me. These institutes are adopting product management/development as a basis to work from, and this might fundamentally transform the museums' organization. Here are some inspiring quotes from Lucie Paterson's presentation: 'Like the digital products we build, we want the museum to exist in a state of perpetual beta: the idea that there is an endpoint to change seems increasingly old-fashioned'; 'For digital projects to be successful, they require a process that puts users first'.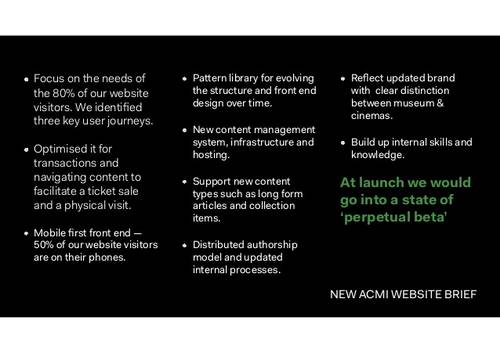 Lucie Paterson's presentation on Transforming a museum through product management
Another topic that has my special interest: 'Getting past the Not Invented Here Syndrome'. This is the tendency to reject solutions and ideas from outsiders. The solution includes 'pioneers' and 'settlers' to be able to disrupt the 'town planners', but also to find the best solutions for the problems of the latter.
At 'Te Papa', New Zealand, the new chief executive saw digital development as a vital way to increase the museum's reach, enhance visitors experience and transform organizational processes. A Chief Digital Officer (DTO) was assigned, and a new digital strategy developed. Replacing the main website was the first project where the digital team used and developed agile methodologies with a user-centered approach. Earlier, an outside company worked with Te Papa's digital team to co-design a workflow that was to become the 'Digital Product Development Framework'. The alignment of this framework with the rest of the organization proved a lot of work but its produced fruitful results, it has added focus to audience needs and helps manage the resources, while focusing on the most important value-delivering products first.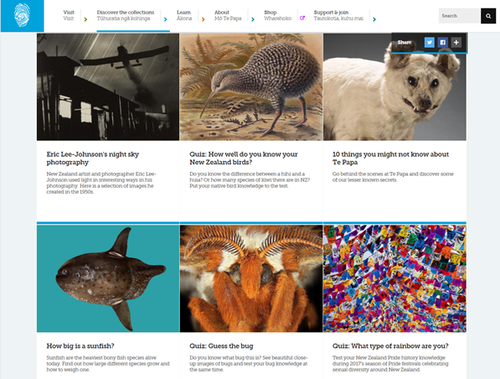 Website of the Museum of New Zealand Te Papa Tongarewa
On a different note, I didn't notice a lot of discussion around the proposals to cut funding by the Trump administration. For instance, the funding opportunities from the IMLS are at risk of being cancelled apparently. IMLS has a $228 million a year budget, so I guess the American cultural heritage field is holding its breath. Coincidental, on Friday there was a 'March for Science' organized in downtown Cleveland, where people defended science and research, which they feel have been under attack.Reem Weda
In conclusion, I feel privileged to have attended #MW17. I have seen so many smart and driven people who do amazing things in the institutions where they work. It was very well organized, and there was a friendly and open atmosphere. It was easy to get to know people and share experiences.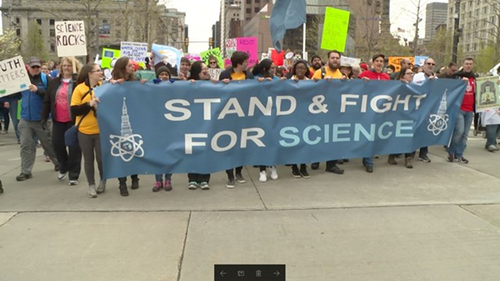 March for Science Public Square (Photo by Jeff Reidel for WKYC-TV)
Bio: Reem Weda is Information Specialist at RKD-Netherlands Institute for Art History and tweets at @ReemWeda
More links:
GLAMI-Awards http://mw17.mwconf.org/glami-winners/
Storify, wrap-up #MW17 on Twitter https://storify.com/museumsandweb/mw17-in-cleveland-ohio-april-19-22-2017
http://www.museumsandtheweb.com/bibliography/

Cleveland (photo by Reem Weda)