The 24-hour Museum – The future of collection websites is here – Gemma Boon (June 2017)

Linked Open Data for Rijksmuseum Twenthe
Five years ago, we started dreaming about a new collection website for Rijksmuseum Twenthe. This website would not only showcase the art collection beautifully, it would also offer additional information about the 8,000 works of art from our collection. We dreamed of a website that opens up our digital doors to everyone with an interest in art, twenty-four hours a day. I recognize that it was not a very unique wish. Most museums dream about this, and some museums are truly inspirational in the way they reach this goal. But we took this basic idea a step further: we used Linked Open Data (LOD) to enrich our data with information from external sources.
A new collection management tool
At Rijksmuseum Twenthe, we like to try new things. Working with Linked Open Data is relatively new; we think we might be the first museum in the world to use it in this way. But the decision to use external sources and re-use information from other websites was also a pragmatic one. This project – building a new collection website – coincided with another big step for Rijksmuseum Twenthe: migrating our data to a new collection information system. We chose The Museum System (TMS) for this purpose. The Dutch company Picturae took on the challenge to build a collection website for us that would use the data from TMS and show it real time on the collection website, using an Application Programming Interface (API). But in the process of examining our data in preparation for the migration to TMS, we discovered something we didn't fully grasp when we started the project. Even though the history of Rijksmuseum Twenthe encompasses more than eighty years of collection research and exhibitions, only a very limited amount of our paper records has been scanned or otherwise digitally recorded. We simply don't have the resources to scan all our records and connect them to our collection data (yet). The result is that, as today, we didn't have much interesting data available to display on our collection website. For example, we lacked descriptions of our collection from an art historical viewpoint. Using data from external sources sounded like a great way to quickly give our visitors access to a world of information, without having to wait until we have the financial and human resources to get our own data digitized.
Download and re-use
We want to give our users a sense of ownership of the art the museum protects and cherishes. We believe that the goal of our museum – largely supported with government funds – is to serve the public. 90% of our collection is safely located in storage; the other 10% is on view in our museum or on loan at other museums. We feel it's important to give people access to the art that they support with their tax money not only by making the information and images available 24 hours a day, but also by supporting and even promoting the re-use of images of objects from our collection. Therefore, all images from works of art made before 1900 are available for free for download in high resolution, and without any restrictions. We would love to make all our material available in this manner, but we are restricted by copyright limitations.
Show pictures of related art with Linked Open Data
But let's get back to the highly innovative use of Linked Open Data on our website. The most interesting aspect of using LOD for me personally is the possibility to show pictures of related works of art from other art collections. For example, we can now show the 'Lute player' from Jan Steen in relation to other paintings of Jan Steen in collections worldwide. Furthermore, we can show other works by a variety of artists that share the same theme, and relate them to the paintings from our collection. See for example: https://collectie.rijksmuseumtwenthe.nl/zoeken-in-de-collectie/detail/id/d0b32afa-931e-5a39-9976-f0f778eb4aa4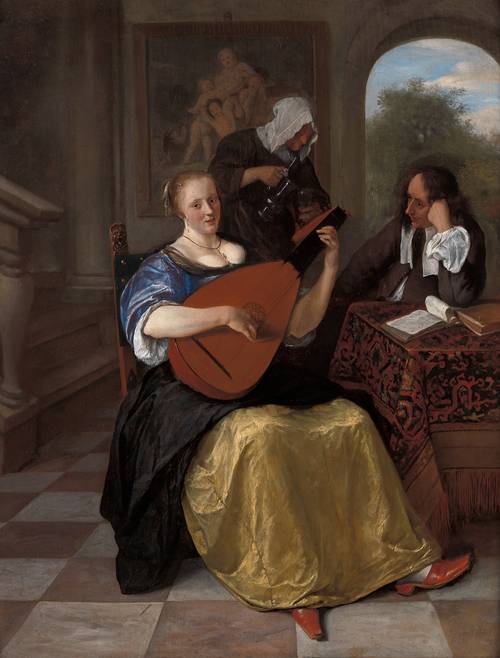 (photo: Woman with a lute by Jan Steen)
How did we do that? In general, computers don't understand the relations between words very well. A match based on the name of the artist wasn't easy, because some Dutch names are spelled in a variety of ways, making name matching complicated and time consuming. Instead, we included permalinks – links that are considered to be 'permanent' and not likely to change over the years – from RKD, Dutch institute for art history, to our TMS database for every single artist from our collection. Using an API, we can show the information from RKD about the artists directly on our website. To show pictures of art with the same subject matter, we needed a different approach. We decided to use Iconclass codes. This description of the subject matter or representation of a work of art through a combination of numbers and letters was introduced by Henri van de Waal (1910-1972), Professor of Art History at the University of Leiden. The next challenge presented itself quick enough: Rijksmuseum Twenthe didn't have any Iconclass codes in its database just yet. We therefore quickly set up a project where we asked volunteers to help us find two matching Iconclass codes for every object from our collection with a clear subject matter (therefore excluding furniture, glasswork, etc.). We are still working on this, but so far more than a thousand Iconclass codes have been added in six months.
Who was Jan Steen from the Rijksmuseum Twenthe's website:



Radical approach
The same group of fourteen motivated volunteers – aging from 19 to 72 – create online exhibitions on our website, write object descriptions using professional literature and add curated links to our website. One of the questions I always get when I present our project to fellow colleagues is: how do you know if the added links and descriptions are of a good quality? How do you monitor their work? My answer is: we don't. We chose a radical approach and gave the volunteers full responsibility for their work. It's loosely based on the Wikipedia approach, where a large group of volunteers adds new information and corrects each other when they find things are not right. Our website is not without its faults and some information might be incorrect. Our goal is not to be flawless, but to be interesting and inspiring. Through constant correction and with feedback from our users, however, we are confident that most of the information is valid and stimulating.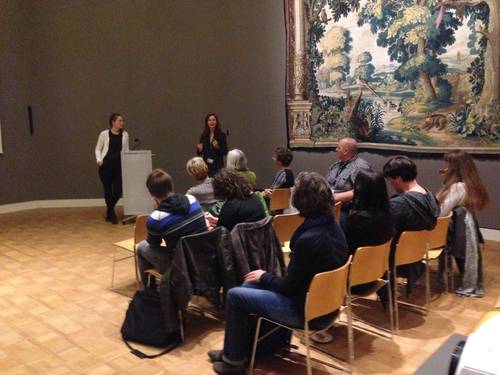 (photo: volunteers at the Rijksmuseum Twenthe)

Reaching our goals
So, why did it take five years for this website to be ready to be used by our online audience? Because pioneering is hard. It takes a lot of time and energy to create something that doesn't exist yet. With our partner Picturae we vigorously ploughed through the mountains of unexpected troubles, big and small. And here we are today, our dream now a reality. Do try and see for yourself: collection.rijksmuseumtwenthe.nl.
The website collectie.rijksmuseumtwenthe.nl has been realized with the generous support of the Mondriaan Fonds. Our special thanks to Pieter Woltjer and Robert Tiessen from Picturae for building the website, Rens Leerkes from Word Lenig for the superb design, and all the volunteers and employees of Rijksmuseum Twenthe for their cooperation and endless support. 

Bio:
Gemma Boon has been working at Rijksmuseum Twenthe for the past seven years on projects varying from communication strategy to exhibition making. Her latest project has been the development of a new digital strategy for Rijksmuseum Twenthe, including a new collection website using linked open data.