Training Events
The CIDOC Training Association currently offers four different types of training:
⁃ The Summer Schools
⁃ Thematic Training Programmes
⁃ Introductive training sessions during CIDOC conferences
⁃ Online courses
The CIDOC Summer School is an annual event that we have been running since 2011. Over the years we have trained several hundred participants.
We cover a mixture of foundation, intermediate and advanced topics. In previous years, dormitory accommodation were available on campus for just $30 per night. Breakfast, lunch and coffee breaks were all included in the registration fee. Registration was at 300 USD (250 USD for members of ICOM). We hope to catch up with future events at a similar price scheme.
A Thematic Training Programme usually comes in conjunction with a Symposium. The training event includes lectures, training workshops, exhibition visits and behind the scenes tours. Prices highly depend on the local organizing committee.
Introductive Training Sessions can be visited during most ICOM and CIDOC conferences. They are free of charge.
Online courses may be free webcasts that serve as an introductory offer for an interested online audience, or accompanied study offers for registered course participants. For more information click here.
Here is information about past training events:
---
CIDOC Summer School in Lubbock, TX (USA)
Last event:
July 31 – August 3 2018, courses in English
Museum of Texas Tech University, Lubbock USA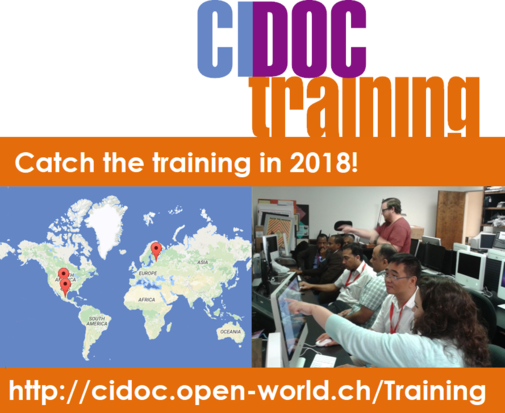 The full programme can be found on the CIDOC Summer School website:
https://cidoc.open-world.ch/Training/TX2018
---
CIDOC Training Programme and Symposium in Lausanne (Switzerland)
Last event:
August 6 – 10, 2018, courses in French/English
EPFL ArtLab and eM+, Lausanne, Switzerland

This was the first CIDOC Training Programme in Switzerland. It took place at the EPFL campus in Lausanne, overlooking Lake Leman.
The event was organised in conjunction with the Symposium: "Archiving Intangible Cultural Heritage" – a symposium for living traditions and the EPFL ArtLab exhibition Kung Fu Motion.
The workshops were delivered with French and English translation, covered the essentials of museum documentation theory and practice, with a special focus on documenting living traditions and intangible heritage.
The event included lectures, training workshops, exhibition visits and behind the scenes tours.
---
CIDOC Training programme in Tartu, Estonia
Last event:
August 12 – 17, 2018
University of Tartu, Estonia
The CIDOC training programme "Digital Heritage" in Tartu, 2018, aimed at museum staff responsible for managing and/or digitizing collections. The courses were conceived as a series of interrelated modules, allowing participants to tailor the curriculum to their individual needs and interests. Participants in the training workshops acquired the knowledge and skills needed to deal with the problems and principles of managing digital material and in selecting the best possible solutions. The collection, documentation and publication of digital images created from analogue objects as well as born-digital material were discussed.
---
Please let us know if you have any questions!
nicholas.crofts[at]yahoo.com