Documentación antigua relacionada con patrimonio cultural donado en Irán: Un caso para la repatriación – Niloofar Yazdkhasti (December 2021)
Sheikh Safi al-din Khānegāh[1] and Shrine Ensemble is a world heritage site in Ardabil, Iran that was built between the beginning of the 16th century and the end of the 18th century (Safavid dynasty). As a place of spiritual retreat in the Sufi[2] tradition the shrine features traditional Iranian architectural forms to maximize the use of available space and accommodate for a variety of functions. The sacred ensemble includes well-preserved and richly ornamented facades and interiors, with a remarkable collection of antique artifacts registered on the UNESCO World Heritage List.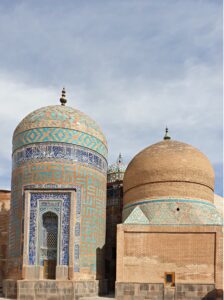 Part of these artifacts consists of hundreds of blue-white Chinese porcelains that are Waqf[3]endowment of the 5th Safavid king "Abbas the Great" (1571-1629) to the shrine of his ancestor, Sheikh Safi-ad-din Ardabili (Khamoushi 2009). There are 853 porcelains sealed in Chinese scripts and Persian signed Servant of Imam Ali Abbas / بنده شاه ولایت عباس (Safari 1974).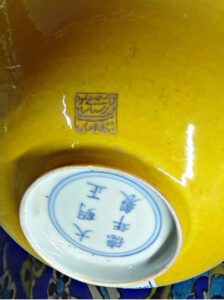 To preserve this exquisite collection, a hall was built inside Sheikh's Khānegāh, called Chini Khānā (porcelain hall). The great value of Sheikh became the inspiration to expand the sacred site and turn it into the finest showcase of endowed artworks, whose religious reputation became sacred and added value to the place. The significance of these sacred objects called for the preservation of the collection as an integral part of the shrine value for ages.
In fact, since Chini Khānā was established in the 16th century A.D., it can be considered as one of the oldest Iranian museums. Its walls near 3 meters and have intricate chambers for dishes with Tong-Bori[4] motifs, echoing the patterns on the dishes (Shahbazi Shiran and Mammadova 2014).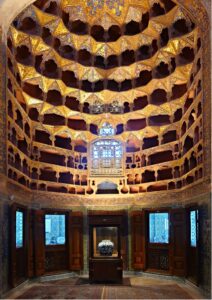 The Sheikh Safi al-Din Khānegāh and Shrine Ensemble manuscripts consist of hundreds of documents from  the 12thto 18th century A.D. that are considered the oldest documents of the Islamic era in Iran. Many of these documents may not be related to the complex but because of the significance, safety, and respect of the community for the shrine, it became a suitable place to preserve them (Sheikh al-Hokamaei 2001).
Among these manuscripts is a scroll that dates to 1758 A.D. and lists a number of endowed objects making it an important cultural resource that can be considered early museum documentation from Iran. The scroll's original function was that of record and preservation, today it represents the ownership of the collection.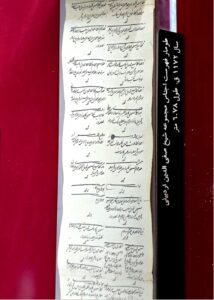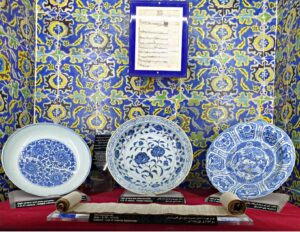 This scroll is important because, as opposed to a 1505 A.D. record in the shrine, it is complete (Safari 1974).
The unique treasures of the ensemble were however looted by various rulers over the course of history, after the fall of the Safavid (Iran's Cultural Heritage, Handicrafts and Tourism Organization 2009). As many as 800 chinaware and 4,000 books were looted by Russians under the leadership of the Imperial Russian military leader Ivan Paskevich after the Treaty of Turkmenchay[5], some of them currently preserved at the State Hermitage Museum, Saint Petersburg, Russia and the rest exhibited at the Chini Khānā Museum of the Sheikh Safi Shrine, Ardabil, and others at the National Museum of Iran, Tehran (Mehr News 2013). Under Islamic law no transfer of Waqf properties can take place (Abbasi 2012).
Could the scroll recording the Sheikh Safi Shrine objects be used as proof of ownership and start the process of repatriation to Iran?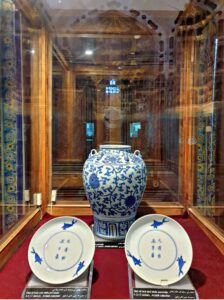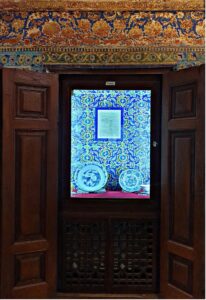 ---
Footnotes
[1] Khānegāh literally a 'dwelling place,' or a 'place of residence,' refers to an Islamic institution and physical establishment, principally reserved for Sufi dervishes to meet, reside, study, and assemble and pray together as a group in the presence of a Sufi master, who is teacher, educator, and leader of the group (Encyclopaedia Iranica 2010).
[2] Sufism, mystical Islamic belief and practice in which Muslims seek to find the truth of divine love and knowledge through direct personal experience of God (Encyclopedia Britannica).
[3] A waqf, also known as hubous or mortmain property is an inalienable charitable endowment under Islamic law (Awqaf SA ).
[4] Decorations like pots and potteries in the surface of Chini Khānā with plaster and wood.
[5] Treaty of Turkmenchay was an agreement between Qajar Iran and the Russian Empire, which concluded the Russo-Persian War (Adle 2005).
---
References
Abbasi, Muhammad Zubair. 2012. "The Classical Islamic Law of Waqf: A Concise Introduction." Arab Law Quarterly26 (2): 125. Accessed November 7, 2021. http://www.jstor.org/stable/23234650.
Adle, Chahryar. 2005. History of Civilizations of Central Asia: Towards the contemporary period: from the mid-nineteenth to the end of the twentieth century. UNESCO.
Awqaf SA . n.d. What is Waqf? Accessed November 10, 2021. https://awqafsa.org.za/what-is-waqf/.
Encyclopaedia Iranica. 2010. ḴĀNAQĀH. December 15. Accessed November 2, 2021. https://www.iranicaonline.org/articles/kanaqah.
Encyclopedia Britannica. n.d. "Sufism." Accessed November 2, 2021. https://www.britannica.com/topic/Sufism.
Iranian Cultural Heritage, Handicrafts, and Tourism. 2009. "Sheikh Safi al-din Khānegāh and Shrine Ensemble in Ardabil." UNESCO. Accessed November 4, 2021. https://whc.unesco.org/uploads/nominations/1345.pdf.
Khamoushi, Leila. 2009. "The Story of Endowed (Waqf) Objects of Sheikh Safi Al-Din Ardabili Shrine and Transferring to the National Museum of Iran." Waqfe Mirase Javidan (66): 72.
Mehr News Agency. 2013. "Ardabil Museums, Repositories of History, Culture, Traditions of People of the Region." March 26. Accessed November 5, 2021. mehrnews.com/xncxq.
Safari, Baba. 1974. The History of Ardabil. Tehran: Bahman.
Shahbazi Shiran, Habib, and Ilhama Mammadova. 2014. "Archaeology, Art and Architecture "Chini Khaneh" and "Haram Khana"; Two important buildings in the Sheikh Safi al-Din Ardabili complex; from famous monuments "Islamic architecture" in Ardabil (Iran)." Journal of Multidisciplinary Engineering Science and Technology (JMEST) 1 (5): 126, 129.
Sheikh al-Hokamaei, Emad al-Din. 2001. "Scribes and Judges of the Documents of Sheikh Safi al-Din Khānegāh and Shrine Ensemble ( Documents of 6th to 10th Century AH)." Nameh Baharestan 2 (4): 137.
UNESCO. n.d. Sheikh Safi al-din Khānegāh and Shrine Ensemble in Ardabil. Accessed 11 2, 2021. https://whc.unesco.org/en/list/1345/
---
Short Bio
Niloofar Yazdkhasti is a museum curator, mediator, and the founder of "The Museum Matters", an NGO that promotes cultural heritage through interactive content on social media. She studied Museum Studies and Art Studies in Iran and later in 2017 moved to India and studied Museology at the National Museum Institute, New Delhi.
Niloofar is a former curator of the Iranian Museum of Graphic Design and also has worked at the Iranian National Science and Technology Museum. At present, she has been involved with museums and cultural projects in Iran and India. She is an active member of ICOM since 2015.