All news
November 26, 2020
CIDOC Newsletter 2019 is published News, Newsletter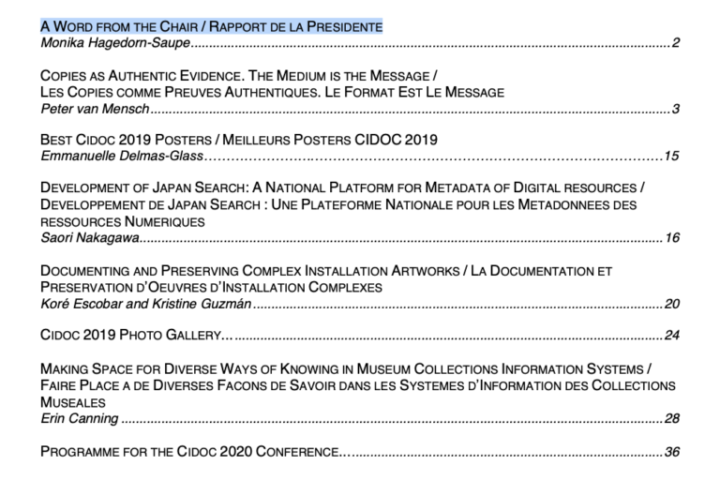 Published since 1989, the CIDOC Newsletter is a widely known publication that covers topics related to museum documentation and information management, and spotlights international CIDOC members and other documentation specialists, projects and research. In addition, in recent years, the newsletter has featured some of the most interesting and captivating presentations and articles presented at CIDOC annual conferences. It also reports on the committee's work, activities, and events.
The current issue continues that tradition and highlights the best posters and presentations from our 2019 annual conference held in Kyoto, Japan. Congratulations to our winners! It also includes a message from our chair and the programme for the upcoming CIDOC 2020 conference, which is December 7-11, free and online this year. You can register for the conference at https://cidoc.mahgeneve.news/en/conference/ and follow conference updates on Twitter at #CIDOC2020.
Contents:
A WORD FROM THE CHAIR / RAPPORT DE LA PRESIDENTE
Monika Hagedorn-Saupe
COPIES AS AUTHENTIC EVIDENCE. THE MEDIUM IS THE MESSAGE /
LES COPIES COMME PREUVES AUTHENTIQUES. LE FORMAT EST LE MESSAGE
Peter van Mensch
BEST CIDOC 2019 POSTERS / MEILLEURS POSTERS CIDOC 2019
Emmanuelle Delmas-Glass
DEVELOPMENT OF JAPAN SEARCH: A NATIONAL PLATFORM FOR METADATA OF DIGITAL RESOURCES / DEVELOPPEMENT DE JAPAN SEARCH : UNE PLATEFORME NATIONALE POUR LES METADONNEES DES RESSOURCES NUMERIQUES
Saori Nakagawa
DOCUMENTING AND PRESERVING COMPLEX INSTALLATION ARTWORKS / LA DOCUMENTATION ET PRESERVATION D'OEUVRES D'INSTALLATION COMPLEXES
Koré Escobar and Kristine Guzmán
CIDOC 2019 PHOTO GALLERY
MAKING SPACE FOR DIVERSE WAYS OF KNOWING IN MUSEUM COLLECTIONS INFORMATION SYSTEMS / FAIRE PLACE A DE DIVERSES FACONS DE SAVOIR DANS LES SYSTEMES D'INFORMATION DES COLLECTIONS MUSEALES
Erin Canning
PROGRAMME FOR THE CIDOC 2020 CONFERENCE
CIDOC wants to thank the participation of all the authors and contributors to this issue.
To download this issue, click on the image bellow.